Cover Your Chin nets $34K
Source: The Star Democrat
By Chris Polk
January 24, 2019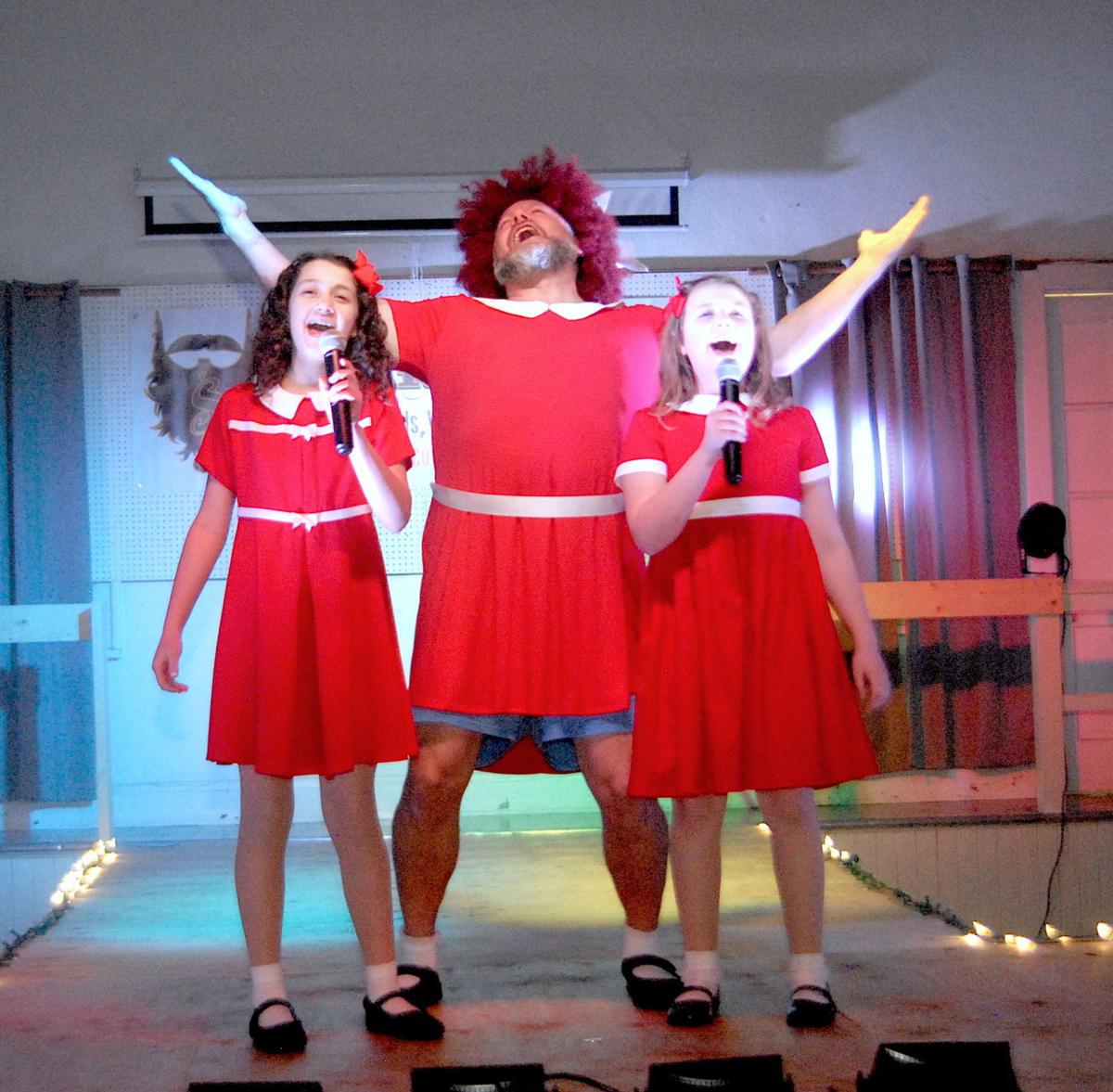 From left, Jessica Hammond, Jon Southworth and Gabby Mangold belt out "Tomorrow" from the musical "Annie" during the grand finale of "Cover Your Chin for Charity" Saturday evening, January 19, at Waterfowl Festival Headquarters. Southworth tied with Dr. Landy Cook for first place in the Full Beard category.
EASTON — It's the biggest year ever for fuzzy faces. "Cover Your Chin for Charity" netted at least $34,000 for local charities, with the big checks given out during a lively wintertime party Saturday, Jan. 19, at the Waterfowl Festival headquarters.
Six years ago, as the temperatures began to drop in the fall, a group of buddies naturally began thinking about chin whiskers and how they help keep the face warm.
This turned into a conversation that turned into a bragging rights competition that somehow turned into an organized fundraising event.
Every fall for the past six years, competitors have begun their journey from not a speck of facial hair to bushy beardedness by shaving it all off and taking a picture.
Contest rules say they need to submit a photo of their clean-shaven selves with something that is dated, like a newspaper. This year, any time after midnight Oct. 19 was accepted.
Serious fundraising accompanies the careful cultivation and growing out of the whiskers.
There were 45 competitors and four categories, including Mustache, Partial Beard, Full Beard and Existing Beard. A "King of the World" award is given to the most profitable fundraiser.
Competitors included Eric Beck, Jason Baringer, Matt Blue, Howard Bogac, James Bogac, Clay Buritsch, Aaron Callahan, Rob Carol, Shawn Carter, Will Chapman, Josh Clow, Landy Cook, Buck Davis, Cory Devaric, Chris Divillio, Ron Engle, Peter Engler, Ryan Finch, Michael Frame, Jon Grow, Scott Handte, Mike Harris, Jeremy Hilliard, Robert Howden, Jeremy Joseph, Matt Kealy, Heath Kelsey, Andrew Leight, Ron McDonald, Logan Milby, James Pierson, Brian Price, Evan Roe, Thomas Ryan, Joel Shilliday, Andrew Southworth, Jon Southworth, Corey Spies, Matt Spiker, Dominic Szwaja, Adam Theeke, James Thompson, Ron Vener, Mike Valliant and Colin Walsh.
For the grand finale party, each contestant had his time on stage, accompanied by music as he showed off the muttonchops.
From Zeus to Moses, Buffalo Bill, ZZ Top and Santa Claus, homage is paid to the great bearded figures of our collective consciousness. There was no shortage of testosterone among the contestants.
Peter Engler showed off a sophisticated goatee, surrounded by beautiful women as "the world's most interesting man." Buck Davis paraded as a hairy hillbilly.
Jeremy Hilliard wore armor and drew a sword to "I'm Henry the VIII" by Herman's Hermits. Andrew Southworth puffed on a cigar in military garb as none other than Fidel Castro.
Josh Clow did his best John Travolta imitation to the Bee Gees' "Staying Alive."
One of the showstoppers was the appearance of two young girls in red dresses, Jessica Hammond and Gabby Mangold, singing "Tomorrow" from "Annie." Both played the role in the Avalon Theatre's recent production of the musical.
Halfway through their performance, Jon Southworth, in an identical red dress, burst forth from backstage and joined the singing. He was sporting a curly brown beard and wearing an "Annie" wig. Southworth was Daddy Warbucks in "Annie."
Their performance received a standing ovation.
Another standout was the appearance of pediatrician Dr. Landy Cook, who bounded around the stage waving a lightsaber dressed as Obi-Wan Kenobi from "Star Wars."
When the judging was finished, the top prize for Full Beard was a judges' tie between Southworth's group and Cook.
The audience broke the tie, cheering louder and longer for Cook, but he handed his prize to Southworth and the two young singers, Hammond and Mangold.
In the partial beard category, first place was the team of Jon Grow and Matt Blue; Easton Town Councilman Ron Engle came in second, with Ron McDonald third.
Shawn Carter was the uncontested winner in the Mustache category.
In the Existing beard category, Brian Tyler placed first; Adam Theeke was second; Jim Thompson was third.
Each year, a "King of the World" is crowned as the biggest fundraiser. This year, Ron Vener was crowned for raising more than $4,500. It's the third time Vener has held the title.
"This is one of the best things I've ever done in my life, I'm proud of it," Vener said. He praised the group of Adam Theeke, Andrew Southworth, Joel Shilliday, Will Chapman and others who work tirelessly "all year long to give one of the best parties on the Eastern Shore."
Proceeds from Cover Your Chin for Charity benefit animals, kids and vets.
This year, the recipients included
Talbot Humane ($4660),
Care Packs of Talbot County ($8445),
Bay Water Animal Shelter ($3290),
Tomcat Solutions ($3215) and the
MidShore Recovering Veterans Group ($9385).
Judges for the contest were Marianne and Hal Petschke, Jim and Colleen Brighton, Maire Mcardle and Steve Walker.
Mistress of ceremonies was Lindsey Grow. Mary Kramer ran the silent auction and gathered sponsorships.
Michael McCormack of Easton volunteered his DJ expertise for the music system.
Lyon Distilling Company of St. Michaels donated prizes and was on hand with libations.
Dogfish Head Brewery of Milton, Del., was a major sponsor and provided beer.
Stewart's Catering of Easton kept the crowd fed, and Headwaters Seafood & Grille in Easton provided oysters on the half shell.
Heather's Salon in Easton provided original shave-offs to those who wanted them in October to begin the contest, and Prim Salon in Easton provided shave-offs after the contest was over.
Major sponsors included the law firm of Ewing, Dietz, Fountain and Kaludis P.A., Choptank Transport, Armored Self Storage of Easton, National Premium Beer, Corey Spies and family, and builder Chuck Leitzer Jr.
Ted Mueller Photography, Shane Moore and Tracy Dietrich Photography captured the event.
Checks Written for Sponsored Charities

Care Packs of Easton- $8445 

Midshore Recovering Veterans Group- $9385

Tom Cat Solutions- $3215

Baywater Animal Rescue- $3290

Talbot Humane Society- $4660
For a complete list of sponsors and more information, visit cover yourchin.com.